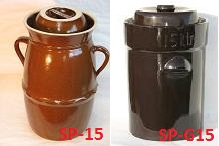 SP-15/SP-G15
SP-12/SP-06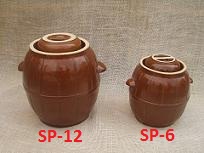 SP-15/SP-G15
SP-12/SP-06
Sauerkraut Pots
The special feature of
sauerkraut pots is the lid fitting in a circular grove that is filled with water. This water sealing system allows fermentation gasses to escape, without allowing air to enter the pot. Weights are supplied with each pot. They help to control mould by keeping the vegetables covered in liquid. The pots are made of pottery and baked at 1200°C and covered with a lead-free glaze. The brown barrel-shaped pots are made in the Czech Republic and the black cylindrical pots are made in Germany.

Cabbage Shredders
The cabbage shredders are wooden, 600mm long, 230mm wide and have 3 blades for shedding. There is a square wooden frame that can slide up and down and that contains the cabbage to be shredded. It is pushed back and forth with the hands, which,at the same time, press on the cabbage. The shredding is quite efficient and fast.

• Click to show additional information...