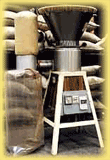 The
SAMAP P380 commercial mills
are built on the same basic pattern as the domestic models but has the performance for bakeries and small manufacturing uses.
Currently one P380/3 for grain, and one P380/4 for chestnuts is available in stock in Christchurch, New Zealand. One set of millstones for grain mills is also available in stock.
It takes very little floor space and can even be fitted with castors. Superb dust control ensures clean premises and absence of explosion risk. The three phase motor is economical and trouble free and the ammeter helps to find the optimum feed setting for the chosen setting of flour fineness. The millstones have a 200mm diameter.
Another model is the HI-380-55 4 kW model, 3 phase. All models have a stainless steel hopper, and the HI-380-55 also has a stainless steel stand. The delivery time on commercial models is normally 3–4 weeks. Special millstones are available for milling chestnuts (see specifications below). Price(s) listed on this page are valid only for payments by cheque or direct credit. Credit card payments will incur an additional 3.75% fee — this is the fee credit card companies charge us for credit card payments over the Internet or telephone.
Note: A freight surcharge will apply to New Zealand Rural Delivery (RD) customers.
Specifications:

P380/3
Height: 135cm
Base: 85×60cm
Weight: 75kg
Motor: 3kW (or 4 HP) at 400V
Output: 80kg/hour (fine flour — wheat)
Guarantee: Two years on motor and milling parts

HI-380-55, P380/4
Height: 135cm
Base: 85×60cm
Weight: 95kg
Motor: 4kW (or 5.5 HP) at 400V
Output: 120kg/hour (fine flour — wheat)
Guarantee: Two years on motor and milling parts

Note: specified outputs for grain at 10% moisture content.

Chestnut Milling

A 4kW motor is recommended. The upper millstone has two feed holes of 30mm diameter (adjustable in order to control the flow of chestnuts into the milling chamber).

Output: 20–25kg fine flour (90% through a 250 micron sieve). Note that the chestnuts must have a maximum moisture content at 6%. The smaller the moisture content, the smaller the risk of "caking" the millstones.